Kate Messner's 59 Reasons to Write ought to be installed in a glass box with a little hammer next to it, and a sign that reads, "Break glass in case of writing emergency."

Having trouble getting started? Paralyzed by fear? Plot problems? Not sure what where to go next? This is your book.
59 Reasons is so jammed with inspiration that everyone who writes anything should have a copy. But that is also it's problem: when I woke up at 2:15 AM this morning, I thought read myself back to sleep (usually I use The New Yorker for this). I ended up having to grab a pencil and scribble notes in the margins since my trusty Asus netbook is bared from the bed.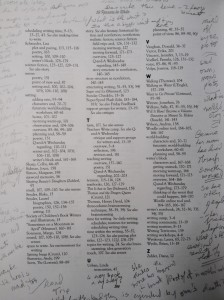 Two hours later I had to force myself to put it down. My brain was still humming so furiously that it took me another 40 enough minutes to calm down enough to sleep. Maybe the book should come with a Warning label, "Reading this book may produce uncontrollable surges of creativity."
I finished it on my way to work this morning, right before I got off the subway. A good thing; I didn't want to have to say to my boss, "Sorry, I have to finish the book that's going to help me write my next novel before I can come to work today."
After four years of working on The Disappeared, I had planned to take a six-month writing hiatus to contact agents and editors, get the blog going and do some serious reading. I am now so revved up to get started on Novel No. Four that I can barely sit still. The questions and exercises have given me so much many ideas that in one day I've done several weeks worth of work. This is your fault, Kate!
This book is subtitled, "Mini-Lessons, Prompts, and Inspirations for Teachers," (Oxford comma in the original), but don't be disuaded by that. If you write, buy it and keep it near you. When you run into trouble, just open it up. There is something good on every page.
I have only one criticism: the format. Since I read it mostly on the subway (and in bed), I wasn't in a position to take notes in Evernote and the margins are really too small for scribbles (nor are there endpapers). Also, the size is a little awkward–large for a paperback, small for a workbook–although that was probably a page/cost calculation.
But that's a minor point. This is a book that you need to own, whether you need it now or not. Go get it.