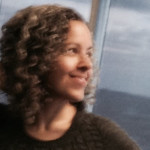 Adria Quiñones is a wildly successful technical writer who began writing novels in order to have the experience of writing something that someone actually wanted to read.
Adria is a regular contributor to the Metro-NYC SCBWI's blog and was a winner of the SCBWI 2014 Midwinter Conference's prestigious joke contest.
In January 2015, Adria was named one of the winners of SCBWI's Emerging Voices Award for her middle-grade novel, The Disappeared.
Contact Adria
Humans who would like to reach Adria will need to figure out how to send a message to info at adria q dot com. Altenatively, leave a comment below.